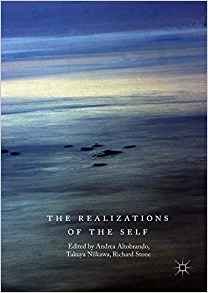 Publication details
Publisher: Palgrave Macmillan
Place: Basingstoke
Year: 2018
ISBN (Hardback): 9783319946993
ISBN (eBook): 9783319947006
Full citation:
Andrea Altobrando, Takuya Niikawa, Richard Stone (eds), The realizations of the self, Basingstoke, Palgrave Macmillan, 2018

The realizations of the self
Palgrave Macmillan
2018
https://doi.org/10.1007/978-3-319-94700-6
Abstract
Recent discussions of self-realization have devolved into unscientific theories of self-help. However, this vague and often misused concept is connected to many important individual and social problems. As long as its meaning remains unclear, it can be abused for social, political, and commercial malpractices. To combat this issue, this book shares perspectives from scholars of various philosophical traditions. Each chapter takes new steps in asking what the meaning of self-realization is–both in terms of what it means to understand who or what one is, and also in terms of how one can, or should, fulfilll oneself. The conceptual elucidations achieved from both theoretical and practical perspectives allow for a more mature awareness of how to deal with discourses on self-realization and, in any case, can help to demystify the subject.
Publication details
Publisher: Palgrave Macmillan
Place: Basingstoke
Year: 2018
ISBN (Hardback): 9783319946993
ISBN (eBook): 9783319947006
Full citation:
Andrea Altobrando, Takuya Niikawa, Richard Stone (eds), The realizations of the self, Basingstoke, Palgrave Macmillan, 2018